Case Studies
Proven results for every problem.
Return to Case Studies page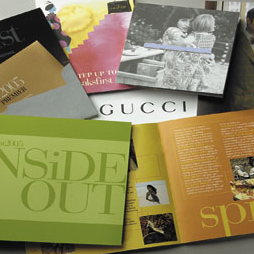 Saks Fifth Avenue
The Problem: How can fifty-eight individual department stores create and order customized trunk show invitations and get them in the mail within 48 hours of approval while guaranteeing consistency in quality and branding standards corporate wide?
The Solution: ColorQuick's web-enabled Workstream system.
Project History
In August 2005, Tom Caputo, Vice President Media Operations, Saks 5th Avenue gave ColorQuick's print provider, CRW Graphics, the assignment to create a customized website that would allow his individual stores to create trunk show and personal appearance invitations online 24 hours per day, seven days a week. The site had to meet Sak's workflow process, business rules and branding standards while allowing the stores flexibility to create an attractive invitation tailored to an individual event.
The Finished Product
Eight weeks later ColorQuick's team of programmers and infrastructure engineers delivered a working site that provides:
A Digital Asset Manager where stores can choose from hundreds of corporately approved graphic images.
Seven different template styles for 2 page, 4 page and post card invitations.
Real time entry of customized text for the invitation and envelope with spell checker and comments section.
Online approval of high resolution PDF softproof of invitation and envelope on user's desktop with ability to print out or email the proof.
A customized order checklist that allows users to choose from different papers, quantities, different mailing options, shipping addresses, customized in house mail schedule, and ability to upload up to three data bases for each customer mailing.
A coordinated approval process that notifies corporate administrators of store approvals for second quality check.
Bulk shipment or mail drop within 48 hours of final approval.
A complete ExtraNet where corporate administrators can view all activity and billing information in real time.
Customized billing statements broken down by store location and user.
Client Satisfaction
Tom Caputo writes, "I just wanted to drop a note and tell you how much I appreciate the effort and support I'm getting from everyone. The system looks great and the enhancements are going to be well received. That's a rave from me."