Products & Services
We offer our clients a suite for success.
Return to Products & Services page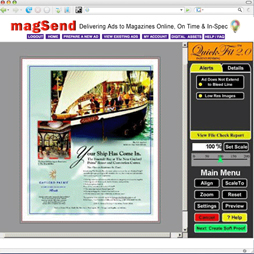 magSend
magSend is ColorQuick's web-to-print system for ad submission to magazines. Recommended by almost every major US publisher, this system provides a complete online prepress service to ensure that your ads reproduce properly in the publication of your choice. Powered by the magSpecs database, this workflow ensures that your ad submission meets all your publisher's requirements, without you even having to look them up! Various types of proofs are available in this workflow, as well as access to The Vault Digital Asset Management.
The magSend System: Complete Digital Prepress
In less than 15 minutes the magSend workflow provides:
Preflight for quality as well as specific publisher requirements. (Digital ad specs for over 500 magazines are in our database)
With QuickFit, online resizing of files to actual purchased ad space, visual problem alerts, identification of lo-res images, zoom and alignment tools
An ICC profile calibrated soft proof on your desktop (and optional hard proofs)
A print-ready hi-res file in any one of 4 formats required by the publisher. (PDFX-1a, TIFF/IT, DCS2 or EPS)
Delivery of your print-ready ad to the publisher
Without purchasing any additional hardware or software, magSend takes your creative ad design and, with your participation and approval, turns it into fully compliant, final electronic print-ready production material, then delivers it directly to your magazine without time consuming delay cycles, or overnight express delivery charges.
The fully automated magSend digital ad workflow system is:
Fast - from receipt of file to final output in just 15 minutes
Accurate - interactive preflight highlights problem alerts and automatically fixes common file errors
Easy to Use - 5 easy steps to a perfect ad
Convenient - online automated workflow 24/7